Hallowe'en musings
By M.L. Doyle
My siblings and I have always enjoyed having the bejesus scared out of us.
Our mother sometimes worked a swing shift. Our dad worked odd hours so we never really knew when or if he'd be home. By the time my older sister was about 12, my middle sister, my brother who was the youngest, and myself – all of us about two years apart from the next one — were pretty much on our own after school, living on peanut butter and jelly sandwiches, casseroles warmed in the oven (there weren't any microwaves back then), or stovetop cooked cans of tomato soup.
Growing up in Minnesota, there are many days when it's just too dang cold to go outside. While alone in the house, our most favorite thing to do was to watch scary movies. Of course this is before VCRs, or DVRs or even cable. We had five measly channels to choose from, but somehow, we were able to find movies that scratched that horror itch. On Sundays, when the weekly listings came out, we would go on a search making note of any movies that might make us scream in terror and then plan all activities around it.
Dracula, The Werewolf, The Blob, Frankenstein, The Mummy, The Monster from the Surf, Godzilla, The Creature From the Black Lagoon. We'd sit side by side on the sofa, a shared blanket clutched to our chins, looking forward to the thing that would make us jump and scream.
As we grew older, the fright somehow changed to hilarity. By the time The War of the Gargantuas, came out, we were ready to laugh, and laugh hard. The story is about two Godzilla-sized creatures, hairy and monstrous looking, who rise from the sea, one good and one evil. At one point in the film, a woman is in a rooftop lounge singing a song that includes the line, "… the wooooords get stuck in my throat." She repeats the line over and over. "The wooooords get stuck in my throat."
Then one of the Gargantuas picks her up, eat her and spit out her clothes. To this day, all we have to do is sing that line and we all crack up.
As we grew older, our tastes developed and the reruns of The Mummy, or the Three Stooges or Charlie Chan versions of those films didn't interest us anymore. We wanted the truly scary films, like The Thing. That Artic mission, the discovery of the space ship under the ice, the isolation, the killer vegetable and the dry wit and snappy dialogue, had all the makings of a classic. The remakes have never lived up to the original black and white.
Another favorite starts with a little blond girl, obviously in shock and standing alone in the debris of her destroyed home, clutching a stuffed animal. Someone asks her what happened. All she can do is scream THEM! Those giant ants were no joke.
Alfred Hitchcock rocked our world. The Birds, Rear Window, even his TV show became a favorite. My brother had to work hard to convince me to watch Halloween. I don't know why I ever hesitated. Then I started reading Stephen King –Carrie, Cujo, It—I couldn't put them down. Since we'd always had dogs and cats for pets, Pet Sematery was particularly horrifying for me.
One Saturday morning, I got up early to find my older sister sitting at the kitchen table, her eyes bloodshot, her hands clenched in front of her. She looked like she hadn't slept all night. I asked her what was wrong. She said she'd been to a movie the night before with some friends. "The Exorcist," she said, then refused to say more. She'd seen it the first night it was released. I think she's still scared from it.
We've never really grown out of our love of fear. Several years ago, I went home to Minneapolis just so I could go with my siblings and a few friends to a place called Scream Town. The massive, outdoor park had five different themed areas, darkened and filled with things and people that jumped out at you. We were, by far, the most senior people at the theme park, all of us in our late 50s and early 60s. We didn't care. It may be our age that made so much of it hilarious.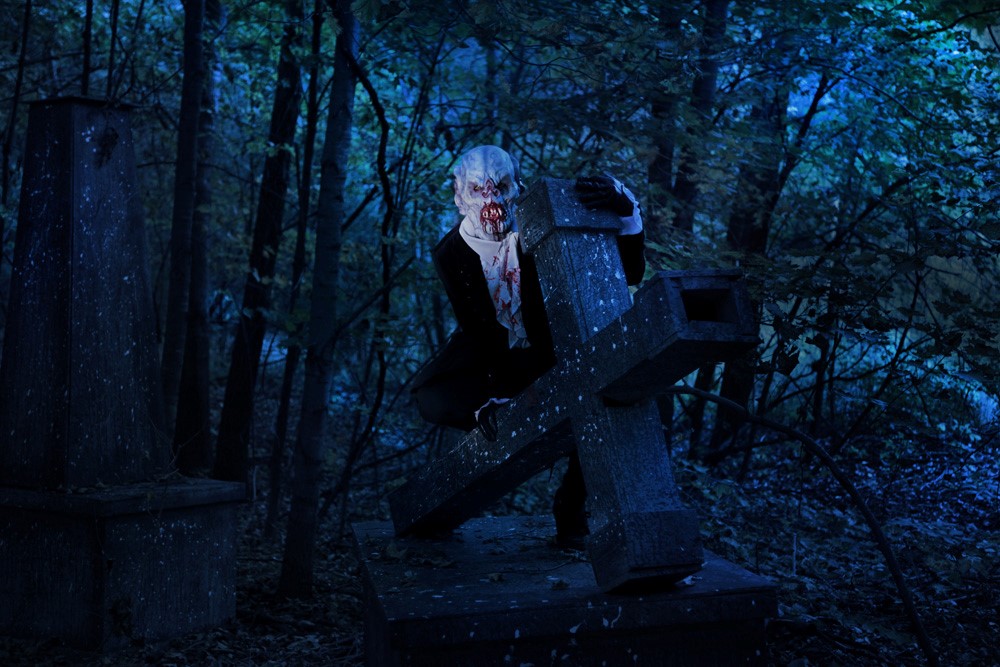 In one room, you had to walk through a space with what looked like bodies wrapped in plastic, hanging from the ceiling. They were so numerous, you had to bump and bang your way through this horror, the "bodies" swinging sickeningly. We clutched each other, heads ducked, stumbling around in the dark, and laughing our asses off, screaming too.
In another place, you rounded a corner to come face to face with a man in a glass-encased electric chair. The red light in the small booth where he sat cast a horrific, shadowy glow over him. The rubbery, trembling and smoking dummy, wrapped in a straightjacket, its mouth gapping open with chilling screams piped out of the box, was so life-like he was fascinating.
We made our brother go first, hanging onto his jacket while we made our way through the corn maze, then stood fascinated at the sight of a cow suspended in air as if it was being sucked up by a UFO. Scream Town does not skimp on the props or makeup.
Now, every year when Halloween rolls around, I think about Scream Town and think about my family and consider flying home for the holiday where we have every excuse to act ridiculous, scream at the top of our lungs and laugh until our bellies hurt.
M.L. Doyle
calls on her years of serving as an Army Reservist to write about women in combat boots. She co-authored the memoirs of two brave soldiers to ensure their stories keep their proper place in history. Her work with Spec. (Ret) Shoshana Johnson, an African-American POW of the Iraq War, was finalist in the NAACP Image Award. She also co-authored with Brig. Gen (Ret.) Julia Cleckley the story of her rise through Army ranks from humble beginnings and despite great personal tragedy.
Mary has written the three-book Master Sergeant Harper mystery series, and Limited Partnerships, a four-novella erotic romance series. Her latest release, The Bonding Blade, is the second book in her Desert Goddess urban fantasy series.
Mary's essays, reviews and interviews have appeared in The War Horse, The Wrath-Bearing Tree, The Goodman project and O-Dark Thirty.
Check her out on Facebook.com, or Twitter @mldoyleauthor, and you can read excerpts of all of her work on her website at www.mldoyleauthor.com.